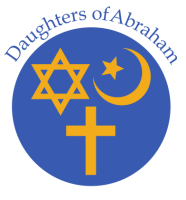 Please join us over three weeks as women of Abrahamic faith—a Jew, a Christian, and a Muslim—each share how her faith has inspired her work for peace and justice.
Farrah Qazi, of Qazi Law Offices, is committed to human rights issues and has represented victims of sex trafficking, political and religious persecution, and unlawful detention; and she established a national domestic abuse hotline for immigrant women.
For over 20 years, Renee Pollino has worked with grass-roots organizations to address social issues. As owner of My Half of the Sky, her mission is to trailblaze the idea that businesses can use the marketplace to do good and end human trafficking this century.
As a member of Congregation Etz Chaim, a Jewish Reform Synagogue in Lombard, Mary Hason has been active in Dupage United, an interfaith community-based organizing group which brings about change for the social justice betterment of our community.