The original organ in the present building was built in 1930 by the Austin Organ Company of Hartford, Connecticut at a cost of $15,900. It contained 26 ranks and was divided between two chambers located in the Chancel of the Church and completely under expression. It was an instrument of 3-manuals plus pedal and served Gary United Methodist Church in Wheaton, IL, for 60 years without change. In 1990, a solid-state combination action was installed in the console and a few tonal additions made.
In 2003, the Bradford Organ Company of Evanston, Illinois took charge of the maintenance. Under their direction, several tonal changes and additions were made and a completed specification drawn up based upon plans set forth in 1990. In 2006, the console underwent a complete renovation including new stop jambs and keyboards. At present, the organ contains 45 ranks plus console preparations for 3 digital ranks in the pedal.
A trompette-en-chamade was added in 2011 and first used on Easter Sunday that year.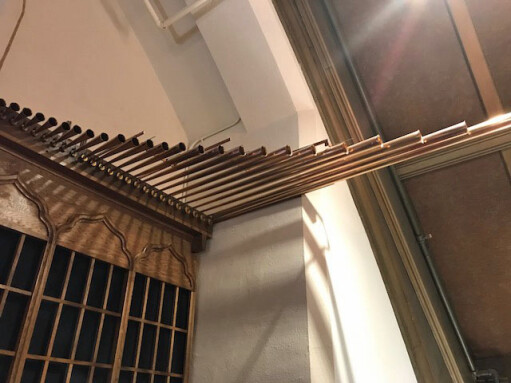 ---
Organ: Austin Organ Company, 1930 (Op 1737)
Rebuilt, tonal additions, 1990
Console rebuilt, tonal additions, 2006-2011
| | | | | |
| --- | --- | --- | --- | --- |
| GREAT | | | SWELL | |
| 16' | Gemshorn (Ch) | | 16' | Lieblich Gedeckt |
| 8' | Diapason | | 8' | Diapason |
| 8' | Bourdon | | 8' | Gedeckt |
| 8' | Gamba | | | 8' Salicional |
| 4' | Octave | | | 8' Voix Celeste |
| 4' | Harmonic Flute | | 4' | Principal |
| 2' | Fifteenth | | 4' | Flat Traverso |
| IV | Fourniture | | 2 2/3' | Nazard |
| 16' | Contra Tromba | | 2' | Flautino |
| 8' | Tromba | | 1 3/5' | Tierce |
| | Chimes | | III | Mixture |
| | | | 16' | Contra Trumpet |
| | | | 8' | Cornopean |
| | | | 8' | Oboe |
| | | | 8' | Vox Humana |
| | | | 4' | Clarion |
| | | | | Tremelo |
| | | | | |
| --- | --- | --- | --- | --- |
| CHOIR | | | PEDAL | |
| 16' | Gemshorn | | *32' | Double Open Wood |
| 8' | Rohr Flute | | 32' | Contra Bourdon |
| 8' | Gemshorn | | *16' | Open Diapason |
| 8' | Gemshorn Celeste | | 16' | Principal |
| 4' | Koppel Flute | | | 16" Bourdon |
| 2' | Spitz Flute | | 16' | Lieblich Gedeckt (Sw) |
| 1 1/3' | Quint | | | 16" Gemshorn (Gh) |
| III | Scharf | | | 8' Octave |
| 8' | Trumpet-en-Chamade | | 8' | Flute |
| 8' | Clarinet | | 4' | Choral Bass |
| | Harp | | *32'' | Contra Bombarde |
| | Celesta | | 16' | 16' Trombone |
| | Cymbelstem | | 16' | 16' Contra Trumpet (Sw) |
| | Tremolo | | 8' | Trumpet |
| | | | 4' | Clarion |
| | | | | |
* Console Preparation Only